Leading Edge University's Intensive Accelerated Immersion Mega Certification is a boot camp training experience at the school including targeted instruction without distractions, providing you with the tools and the knowledge you need to succeed.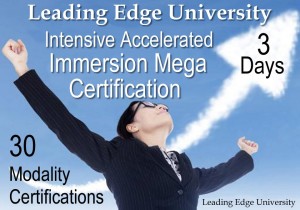 Our Mega Certification intensive program provides total immersion in subject matter over a protracted limited amount of time maximizing your financial investment and time management.
Enrollment in this special intensive is limited to active counselors, consultants, coaches and other therapeutic industry professionals to promote excellence in emerging market.
Therapeutic professionals expand marketability and service offerings by mastering new skills with the most comprehensive hands on approach in concise cram sessions on a wide range of topics.
Access to and mastering the tools gleaned from this mega event will ensure your clients a fruitful journey of personal enlightenment, better mental and physical health and advanced spiritual growth.
Our next intensive includes our Top 30 certifications among a broad scope of disciplines, including:
Kinesiology
Sex Therapy
Addictions and Compulsions
Past Life Regression
Contract Liberation
EMDR
Fears & Phobias
NLP
Modeling Therapy
Psychic Therapy
Life Coach
Corporate Stress Management
Grief Therapy
Weight Loss Hypnotherapy
Military Service Stress Reduction
Personal Mission Discovery
Spiritual Therapist
Life Mapping
Spiritual Abuse Therapy
Integrative Social Skills
Emotional Tapping
Source Connection
Communicating with the Dead
Ghosts
Personal Performance
Professional Excellence
Exorcism (casting out demons)
Natural Diet
Non-medical Health Alternatives
Weight Loss Coach
Organizational Coach
Psychpathic Victim Therapy
Anger Management
Ho'oponopono Therapy
Personal Monetization Coach
Dream Interpreter
Tea Leaf Reader
Tolerance Therapy
Pendulum Therapy
Guided Visualization
Law of Attraction Specialist
Cancer Alternative Certification
Pressure Point Therapy
Chakra Therapy
Healing Crystal Therapy
Aroma Therapy
Couple Therapy
Transdermal Therapy
The cost of any one of these courses and certifications vary from $299 to $2,000 each.
In this limited Intensive Accelerated Immersion Mega Certification, you get all 30 of our Most Popular Courses and 30 individual certifications in one three-day event.
Dates:
Time:
Location:
May 1, 2, 3
8:00 a.m. – 8:00 p.m.
Chehalis, Washington USA
If purchased separately, these certifications would cost $12,667.00
Your Cost for this limited space mega certification event only: $997.00
You Save $11,670.00!
Intensives allow students into a hands-on environment where they will be shown how to maximize our condensed training, absorbing a wealth of information over a limited amount of time.
Hone your skills, broaden your horizons, and build your professional network, while studying on-site in our limited enrollment classroom.
You may already possess the skills from these disciplines, now you can have the certifications to match.
These certifications can be used at any time to promote your leading edge scientific advancement along your career in publicity campaigns.
This event qualifies for CEUs
Participation is limited to ensure an environment that fosters group interaction and active engagement.
Hotel and travel arrangements are the responsibility of the attendees. If you need assistance with making your travel arrangements, please contact:
Leading Edge University Registration Hotline: 360-748-4426
Details: Each class is a stand-alone closed session. Attendees must be present to receive certification. Due to the compression ratio of each session there will be no late admittance. If you are not in the classroom at the start of the session, you will not receive credit for that module. No credit will be given for missed sessions. Certificates will be awarded following each session. Certification must be completed and registered from home to be activated and receive full credentials.
Leading Edge University Registration Hotline: 360-748-4426