Throughout my time here, I have had many goals. Some I have obtained, others I am still working towards.
Goals come in many shapes and sizes:
1) Some are physical
2) mental
3) emotional
4) can be individual
5) while others are set as team goals.
6) Some goals are long term, short term and others are in between.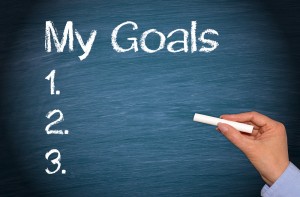 I am an athletics coach in two different sports. At the outset of every season I have all the athletes write down their goals for that season. I want to focus on how to write your goals, no matter what they are.
The sky is the limit on your goal setting. Remember, you can set your sights on anything your heart desires and go get it.
You must be S.M.A.R.T. in the way you set any goal.
What do I mean by S.M.A.R.T.?  Well, let me explain how to write a S.M.A.R.T. goal.
The S. is for specific. You must be as specific as possible with your goals. This means you have to have the 6 W's, which are the what, where, why, who, when and which. Once you have these you can write what the goal is. For example one of my goals is to coach at a State Championship in one of my sports as a head coach. My S. looks like this: I will coach my 2014 team at the State Championships on Saturday November 8th, 2014, in Pasco WA. I have answered all of the W's that apply to this goal.
The M. stands for measurable. Your goal has to be measured, otherwise you will not know when you have met your goal. What this means is, how much, how many and how will I know when I have accomplished my goal. This can be done with target dates. An example for my runners would be running a new personal best on a certain cross country course.
The A. is attainable. The goal you set needs to be attainable in the set amount of time you have to achieve the goal.  You develop the attitudes, abilities, skills, and financial capacity to the goal you have set. You can attain most any goal you set when you plan your steps wisely and establish a time frame that allows you to carry out those steps. When you list your goals you build your self-image. You see yourself as worthy of these goals, and develop the traits and personality that allow you to possess them.
The R. is for realistic. To be realistic, a goal must represent an objective toward which you are both willing and able to work. A high goal is frequently easier to reach than a low one because a low goal exerts low motivational force. Some of the hardest jobs you ever accomplished actually seem easy simply because they were a labor of love. Your goal is probably realistic if you truly believe that it can be accomplished. Additional ways to know if your goal is realistic is to determine if you have accomplished anything similar in the past or ask yourself what conditions would have to exist to accomplish this goal.
T.  stands for tangible. A goal is tangible when you can experience it with one of the senses, that is, taste, touch, smell, sight or hearing. When your goal is tangible you have a better chance of making it specific and measurable and thus attainable.
I certainly hope that everyone sets their goals high and achieves all that their heart desires. Without goals, we are just floating about the universe aimlessly with no purpose. Until next time, live life to the fullest and love each other.